Hello and welcome to LotR.Cards.
There are some truly great places to discuss and enjoy the Lord of the Rings LCG online, but not many quite like this. We hope this can be a great gathering place for the community as a whole. There are a number of features that can hopefully help make this into that kind of place and more that I have in mind that I would love to add if resources/time allow. Let's walk through some of them, shall we?
User Submitted Content:
You'll notice there are articles, videos, and podcasts linked to here. Some of these are archives copied over from other sites, a few are imported automatically as they're posted, but many others are user submitted.
Once you're logged in to the site, hit the account menu and then the "Submit" button to pull up the submission form. This will let you do things like type up an article or copy and paste one from Word, or insert a link to the newest episode of your podcast. You must be logged in to submit, but there's also a small team of people taking a look at things, so that we can hopefully keep on top of the spam submissions that have been an issue elsewhere.
Card Tagging:
You may have noticed the button in the editor with the One Ring icon. When you're typing up a post anywhere you see that editor, you'll have the capability of tagging cards so that other users reading it can check out RingsDB text tooltips that popup on mouse-over.
Here's how it works: Type out the exact name of the card without quotation marks, then highlight the name and hit the yellow button. This will insert (lotr) (/lotr) around the card name. There are a couple of small things about this. The tagging will actually use brackets [] instead of parenthesis, but we use parenthesis here so you can actually see it. If you'd rather, you can type them by hand instead of using the button to insert them. Also, it's worth noting that plain character names like Frodo Baggins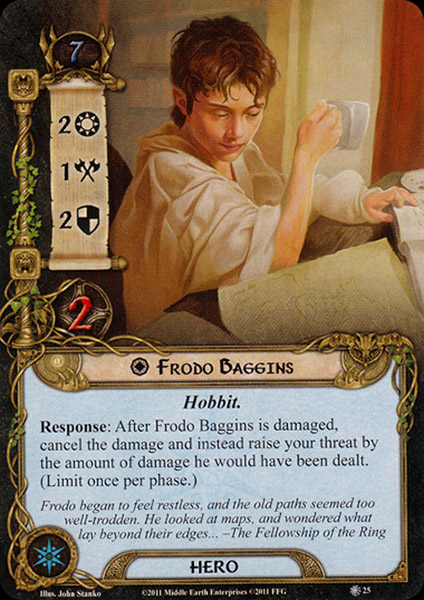 Frodo Baggins Hero. Threat: 7. Hobbit. 2 1 2 2 Response: After Frodo Baggins is damaged, cancel the damage and instead raise your threat by the amount of damage he would have been dealt. (Limit once per phase.) Spirit Conflict at the Carrock #25 default to the first appearance of that character. If you want a different appearance, you'll want the all capital abbreviation for the pack or box they appeared in like Frodo Baggins MOF
Frodo Baggins Hero. Hobbit. Ring-bearer. 2 1 2 2 Planning Action: Exhaust The One Ring to add 1 resource to a hero's pool. Fellowship The Mountain of Fire #1 .
This feature works anywhere you see this editor, so you can use it in the forums for discussion as well. Comments, unfortunately use a slightly different editor, so there is no button, but if you type them by hand, they'll still work.
Events:
Also included is an event listing system. This has been set up already with some Fellowship events and local game store play nights that we are currently aware of.
Of course, you can also submit events directly by using "Add Event" from the Event menu. This gives a full featured editor to type out your description and a number of fields for information about the time of the event, the venue and more. These events are then submitted as pending for one of the mod team to double check and publish in order to help keep out spam.
Of course, it's very important to be able to parse and find appropriate events for any players interested. There is a basic filtering system currently and I would like to expand that in the future. The events default to a visually engaging photo view, but in the upper right you can find a drop down menu to choose different views that you may prefer. Certain events (like Fellowship Events) will also be highlighted in blue as "Featured Events."
Resources and Willpower:
You may also notice Ranks and Titles displayed along with user names in the forums and elsewhere. These are based on the two points that you are able to earn through using the site. Resources and Willpower are earned based on participation and interaction with the site. Here you can gain resources by visiting the site, commenting on articles, posting in the forums, submitting articles, submitting events, etc. There are daily limits for each activity, but a larger reward for those that take the time to craft articles, podcasts, etc, and then submit that content for the community.
So what do they do, then?
Well, let's start with Willpower. This is effectively a simple counter of your engagement with the site. It's always increasing as you do things and you'll noticed a variety of LotR inspired Ranks as you progress upwards in total. As well, there is a public Top 10 leaderboard to help show off the "Most Willful" in the community.
Resources though…. Well, I've got some things that I'd love to do with that, but it's going to take a bit more time and effort. You may message me if you're interested in helping out. Particularly if you have artistic skills.
Badges:
There is also a handy badge system. At the moment, I'm looking at letting podcasters, vloggers, etc have an extra little recognition with the logo of their show, and having a badge to represent the mod team. But aside from that, I'm open to suggestions! There are certain some cool things we could do!